Has #metoo gone #toofar? Not so much.
I'm not a fan of Steve Paikin. Frankly, I think his milquetoast liberalism is uninspiring. Unenlightening. Boring. However, I do find myself less than convinced by Toronto woman Sarah Thomson's allegation that he uses his position as the anchor of a current events talk show on public television to coerce women to have sex with him. But how should we talk about sexual harassment allegations we don't believe? Is this potentially-false accusation a sign that women have gone too far by naming and shaming harassers, abusers and rapists?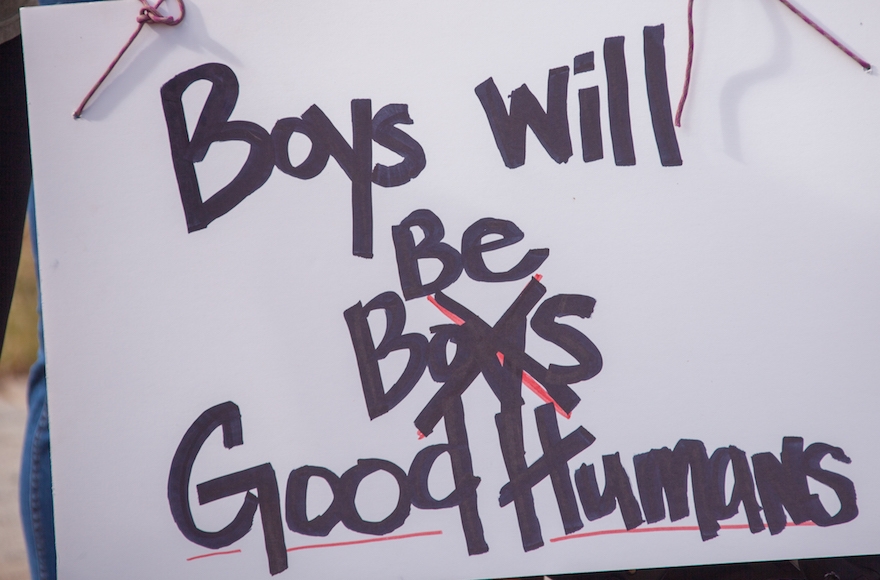 Let's start with why I don't currently believe this allegation. In general, I think women tell the truth about sexual harassment and sexual assault. I have no opinion on Thomson's or Paikin's credibility–I know that women who have been victimized often seem "crazy" because victimization is crazy-making. And men who victimize women often seem like really nice guys. Or like Wonderbread personified. Whatever. The reason I'm not convinced is that the allegation itself is not (or not yet, anyway) convincing.
For one thing, appearing on The Agenda is not worth fucking the kind of creep who would openly coerce women into sex. If I was going to screw some pig for publicity, I'd expect better company than that noxious blowhard J-Pete and Sid Ryan (who is great, but not that great).
More seriously, I thought Thomson's comment about wondering whether the women who appear regularly on The Agenda have fucked Paikin was nasty to those women—calling their integrity and expertise into question while simultaneously suggesting they're victims of sexual assault. The Toronto Star reported that Thomson's assistant and campaign manager not only had not heard about the allegation before the story broke Monday, but also were not aware that Thomson had met with Paikin at all. Thomson responded by saying the assistant who spoke to the Star hadn't been a part of her 2010 Toronto mayoral campaign at all, which is demonstrably false.
And then there is the lack of other accusers, of other investigations, of rumours, even. If Paikin did spend the last 25 years boldly attempting to coerce sex from potential Agenda guests and succeeding 50% of the time, that would amount to thousands of rapes. That no one has come forward to say "me too" is surprising. Either the facts are different from what Thomson reported, or Steve "Human Oatmeal" Paikin is one stealthy motherfucker.
But what matters to me right now isn't really whether or not the allegation is true (although that is, understandably, what matters most to Paikin and Thomson). What matters is how the allegation, which appears to be widely disbelieved by the public and the media, is being framed, in the context of discourse on gender equality, sexual harassment and #metoo.
Many people believe that Thomson's allegation is an example of #metoo run amok. Others believe that allegations like Thomson's trivialize the legitimate complaints that began the #metoo movement. Lots of folks seem to agree that while sexual assault and sexual harassment are, like, super not cool, complaints like Thomson's (or like that of the woman who went on a traumatic date with Aziz Ansari) shouldn't count. If it's not criminal, ladies, shut your cake holes.
Paikin wrote a Facebook post denying Thomson's accusation. Here are a few excerpts from the nearly 900 "supportive" comments on that post, chosen to highlight a few important themes:
Crush these accusations in a Court of Law, if necessary, not this way where weak kneed, non visionary, run a business into the ground whackoes like Sara Thomson exist. Sara, crawl back into your hole of failures. Supreme Court- hello, hello? Show some stones and halt this movement. #metoo is out of control.
Every alleged criminal is assumed innocent until proven guilty – except, it would seem, those who are accused of offending a woman. How can it be that 8 years after this alleged comment, the woman in question is now coming forward? Seriously? This "me2now" movement is becoming a tool for every slighted, theatrical or mildly offended woman to use against anyone whom they choose and it is up to the accused to defend themselves and clear their names. This is outrageous.
To mean no harm to Sarah Thomson is a mistake. False claimants , slandering and fabricating women must be punished as harshly as possible – they cast doubts on the real claims of real victims. Don't be soft Steve.
Get the bitch!!!!
These dumb bints will learn innocent until proven guilty is still the gold standard, and making these assertions without evidence will lead to bankruptcy for them!
She did it because she didn't get what she wanted from him and the metoo movement was her chance to finally get back at him.
Yes, such petty, stupid, evil women do exist.
She should be thrown in jail.
Sarah Thomson has no credibility and has always come across as a wing-nut to me. Her desperate, flashy and weak attempts to enter politics say a lot about her character. Sadly, I suspect this is all a desperate attempt at attention at your expense. I'm glad TVO is standing by you and I look forward to the day you are cleared of this. Then sue her for defamation of character.
I would love to see this woman incarcerated to send a message to everyone else who thinks it's a good idea to destroy someone's life based on lies.
And now, can someone explain to me how this would have been sexual harassment, even if it occurred exactly as Ms Thomson said? Since when is "asking for sex" between two adults a crime?
Steve! Fight this false accusation with everything in your arsenal! Sue the pants off that crazy lady for defamation.
When she accused Rob Ford of grabbing her ass, I thought she was a bit off, but now I'm sure she's bat- shit crazy. She's just a publicity hound!!
Who would believe someone like Paikin would be interested in a 3 at best Thompson? And the hair… my GOD. There's no sexual attraction in that woman what so ever… If I want to treat sex addiction I ask my patients to look at Thompson for 3 hrs… get real guys..
The whole thing will be different if the victims are before a judge.!
This is what is bad about the me too movement. Any nut bar can make a false accusation and an innocent mans life is destroyed.
It's actually going to be fun destroying her. I just hope you sue her for slander/defamation.
Comments about Sarah Thomson sexualize, criminalize and pathologize her. They trivialize her complaint, as if the behaviour she describes doesn't constitute egregious douchebaggery. She is treated not only as an inherently unreliable narrator, but also as unfit for politics, weak, desperate, craven, hysterical, scheming and insane. These diagnoses are made based on three facts: she once joked about how, with so many women seeking Conrad Black's attention at a party, she'd have to sleep with him to get an interview; she once accused Rob Ford of grabbing her ass; and she is now accusing Steve Paikin of sexual harassment.
The call to action is clear: put the alleged victims on trial, and punish them if they can't substantiate their claims. Do this in the name of due process, even though it's completely at odds with, you know, actual due process.
Jonathan "Gawd, is He STILL Alive?" Kay also notices a remarkable lack of empathy for Thomson in the public and media responses to her allegation:
We talk about speaking openly and sympathetically about mental health. But when we actually are confronted with an episode in which a possibly unbalanced individual hurts someone we like, we throw all that hashtag empathy out the window. Why is it not OK to mock a cousin who has schizoid-induced psychosis, but somehow acceptable — at least in small groups and private chat — to describe Thomson as a cuckoo bird?
So where is this bogeyman, these girls of #metoo gone wild, acting as judge, jury and executioner, destroying the life of any man accused of sexual harassment?
Turns out that's just not a thing.
What Thomson alleges Paikin did is not a crime. But given the benefits local male political candidates could see from being on his show, it would be a very serious breach of journalistic ethics and equitable workplace practices for him to require female candidates in the same election to fuck him to get on air. It's that quid pro quo, coupled with the fact that women would like to just go to business lunches unmolested, as men do every motherfucking day, that makes the alleged behaviour harassment.
And is Thomson crazy? How the fuck would I know? How the fuck would anybody commenting on this event know? And why do we act like this makes her story less likely to be true, when we know that disabled women experience sexual assault at three times the rate of non-disabled women? When we know that people with mental illnesses are particularly vulnerable to violence? What the comments about Thomson's mental health show us is that even in the age of #metoo, when sexual assault and sexual harassment are taken more seriously than ever before, women with mental health disabilities are still frighteningly vulnerable to violence and unlikely to be believed about our experiences.
Likewise, the fact that Thompson has been harassed before tells us nothing except what we already know: sexual harassment is widespread in our culture. And Rob Ford was a crass, loathsome, misogynist sack of boiled dicks. Those are well-known facts. The point of #metoo is that all women can say it because we have all experienced this fuckery, and we all know that women are generally punished for fighting back. Facing further sexual harassment and being called insane, manipulative and unfit for public office are just the tip of the iceberg of fuckness here. 
TVO is, as it is ethically and legally required to do, investigating a very serious allegation against one of its staff. The broadcaster has taken steps to ensure that the investigation is done at arm's length and that appropriate time and resources are dedicated to the investigation before TVO issues any response supporting or disciplining Paikin. Paikin is embarrassed, but he hasn't been disciplined at work, and he is certainly not facing any legal problems at this time.
While the public response has been vicious, TVO's response has been measured, methodical and fair. What this event shows us is not that #metoo has gone #toofar. Rather, it shows us that employers are actually capable of responding to sexual assault and sexual harassment allegations in a way that takes them seriously, understands the nature of the problem and deals with it in a transparent manner. Women still face a shitload of stigma, disbelief and abuse when we speak up about sexual violence, but it is possible to create a world in which women can speak up and our complaints can be investigated without putting us on trial and without ruining the lives of innocent men (which isn't happening anyway, but whatever).
I think women are generally telling the truth about the harassment we face. It's not that I think we're incapable of lying or that unsubstantiated reports of sexual harassment will never happen. I just think sexual harassment and sexual assault are much more pervasive and damaging problems than false allegations. Rather than failing to deal with these problems, in order to give every man the benefit of the doubt, we should deal with them knowing that when the facts of an allegation really do make us doubt its veracity, we are equipped to handle it accordingly.
As long as our culture sees the embarrassment of a few men as a bigger problem than the soul-crushing, dehumanizing, and fucking infuriating assaults and harrasment of millions of women, #metoo hasn't gone nearly far enough.