I'm not a fan of Steve Paikin. Frankly, I think his milquetoast liberalism is uninspiring. Unenlightening. Boring. However, I do find myself less than convinced by Toronto woman Sarah Thomson's allegation that he uses his position as the anchor of a current events talk show on public television to coerce women to have sex with him. But how should we talk about sexual harassment allegations we don't believe? Is this potentially-false accusation a sign that women have gone too far by naming and shaming harassers, abusers and rapists?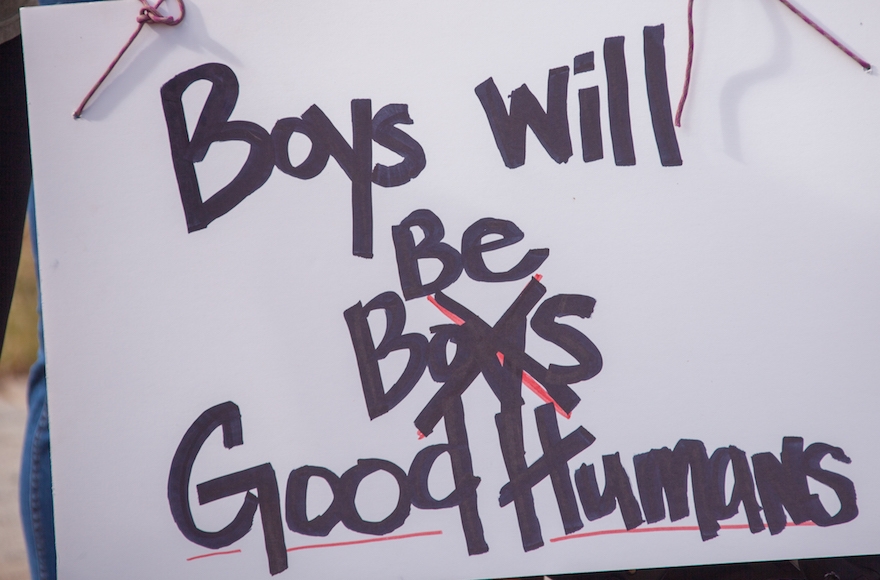 Let's start with why I don't currently believe this allegation. In general, I think women tell the truth about sexual harassment and sexual assault. I have no opinion on Thomson's or Paikin's credibility–I know that women who have been victimized often seem "crazy" because victimization is crazy-making. And men who victimize women often seem like really nice guys. Or like Wonderbread personified. Whatever. The reason I'm not convinced is that the allegation itself is not (or not yet, anyway) convincing.
For one thing, appearing on The Agenda is not worth fucking the kind of creep who would openly coerce women into sex. If I was going to screw some pig for publicity, I'd expect better company than that noxious blowhard J-Pete and Sid Ryan (who is great, but not that great).
More seriously, I thought Thomson's comment about wondering whether the women who appear regularly on The Agenda have fucked Paikin was nasty to those women—calling their integrity and expertise into question while simultaneously suggesting they're victims of sexual assault. The Toronto Star reported that Thomson's assistant and campaign manager not only had not heard about the allegation before the story broke Monday, but also were not aware that Thomson had met with Paikin at all. Thomson responded by saying the assistant who spoke to the Star hadn't been a part of her 2010 Toronto mayoral campaign at all, which is demonstrably false.
And then there is the lack of other accusers, of other investigations, of rumours, even. If Paikin did spend the last 25 years boldly attempting to coerce sex from potential Agenda guests and succeeding 50% of the time, that would amount to thousands of rapes. That no one has come forward to say "me too" is surprising. Either the facts are different from what Thomson reported, or Steve "Human Oatmeal" Paikin is one stealthy motherfucker.
But what matters to me right now isn't really whether or not the allegation is true (although that is, understandably, what matters most to Paikin and Thomson). What matters is how the allegation, which appears to be widely disbelieved by the public and the media, is being framed, in the context of discourse on gender equality, sexual harassment and #metoo. Continue reading →
I don't often turn to Eminem for anti-racist analysis, but I think "The Way I Am" is actually the first source I encountered, and the most popular source for sure, with a critical take on community, national, and international responses to "school shootings" (this of course reflects my own upbringing and embeddedness in white culture, since Eminem is hardly the first artist to draw attention to the discrepancy). The lyrics in question are:
[…] And look where it's at.

Middle America: now it's a tragedy.

Now it's so sad to see an upper class city

Having this happening.
The label "school shooting," and the response to it, prescribe shock and grief in ways that the labels assigned to the gun-related deaths of children of colour and poor children, which are far more common in the US and the world over, do not. I'm not saying shock and grief are inappropriate responses to the shooting deaths of children (or adults), but the shock prescribed is because *these* children were supposed to be safe, *these* children were never supposed to witness this kind of violence, *these* parents were never supposed to feel that kind of fear. The implication held in the completely different response prescribed for "gang violence," "perpetrators shot by police," "high risk lifestyle," "drug-related death," etc. is that *those* children and *those* parents were never protected by the same expectation of safety. *Those* ones might even have deserved it.
Why does this matter? And why is the middle of the response to tragedy the appropriate time to bring it up? I'll suggest three reasons:
1) In addition to gun control, progressive responses to this tragedy have identified accessible mental health care as something that could have prevented it. While anyone with a psychiatrized disability has to overcome almost-insurmountable systemic ableism to access mental health care, on the whole, middle class whites have the *most* access to health care. People of colour and the poor, especially in the US where health care is privatized, bear most of the burden of inaccessible health care systems. If we were to stop considering the violence experienced by children of colour and poor children — not only gun deaths, but the routine and systemic violences of racism and poverty, too — expected and normal, then what might solutions to the crisis of inaccessible health care look like?
2) Speaking of systemic racism and poverty, the premise that middle class white lives are inherently more valuable — that their loss is inherently more shocking, grieving, unexpected and unacceptable — is white supremacy and class war in action. As long as white supremacy and class war remain the dominant ideology of the white middle and upper classes, the associated belief that white middle and upper class boys are entitled to take others' lives to maintain their status will remain intact. The only negotiation is whose lives: their girlfriends and wives? Their schoolmates? Their mothers? The lives of those employed to make consumer goods for them? The lives of sex workers, domestic workers, employees, Iraqis, Afghans, Haitians, Mexicans? The lives of prisoners?
3) These two positions of privilege, safety from violence and the entitlement to commit violence, are markers of status, wealth and power. The first, safety from violence, is unattainable for many people who don't already have status, wealth and power. But the products of our culture relentlessly teach us, and especially young men, that being a violent person is a way to *get* status, wealth and power over others. Look at the way "school shooters" dress and behave: these are tropic images of masculinity and power and, while "video games caused it" is far too simplistic, they were not appropriated and acted on by young men in a void. Aggression and violence are imposed on boys and men from day one, and especially on boys and young men who have few or no other claims to economic or social power. If we cannot deconstruct the messages through which we confirm these two privileges as reserved only for a select few, we cannot prevent further violence. Our response to the "shock" of "school shootings," in contrast with our response to the shootings of children of colour and poor children, is one such message.
Don't get me wrong: what happened is very sad, I feel for the parents and families, and I can even understand why my friends who are utterly unconnected to the whole situation might have cried or hugged their children on hearing the news. I don't think critique of the media and popular responses takes away from that. I think it recognizes the scope of the injustice in a way that being manipulated by media to act out particular responses in ways that best draw viewers for their advertisers without challenging the system upon which their advertisers' profits are founded… well, it just doesn't.
*****************************************************
This is a reproduction of a post from December 14th 2012 on my blog at https://landing.athabascau.ca/profile/sarahma108